Necessity is the Mother of Invention
The proverb "necessity is the mother of invention" can be found in the Random House Dictionary of Popular Proverbs and Sayings. There, it is first attributed to William Fitzhugh and His Chesapeake World (1681). Whether the actual origin of the saying or not, the meaning resonates with those who hear it. Solutions are created from the need to solve a given problem.
Pictured below is a Civil War-era Extraction Forceps (circa 1860). It is said that this instrument was invented after the failure of a "tooth key." The concept was that the drill in the center of the device would work on the root while the forceps would grip and help extract the tooth.

Atraumatic Extraction Today
While instrument design and function have come a long way since the Civil War, new challenges continue to arise in dentistry. The need for atraumatic extraction accelerated as clinicians sought better outcomes in dental implants during the past 20 years. While some extraction forceps today are designed to aid in atraumatic extraction, there are still design improvements that need evolving. Examine dental instruments such as rongeurs or Castroviejo needle drivers which are spring-loaded and designed to stay in the clinician's hand and function without the need to adjust or modify one's grip to effectively use the instrument. Haseeb Sajid, President and CEO of TBS Dental, pondered why extraction forceps cannot function that same way. It drove him to design a spring-loaded extraction forceps, something most said could not be done. And, now TBS Dental proudly introduces FRINGS®, "forceps with spring". This spring-loaded, auto-retractable design entirely replaces the need to manually open forceps. FRINGS is a game-changer for tooth extraction because it allows the clinician to easily hold and control the instrument in a position with less stress on the hand, while allowing one to free up the index finger and reposition it on top of the hinge. With light pressure, the instrument is seated subgingival for both apical and coronal grip. As the first company in the world to have designed such an extraction forceps, TBS has set a new standard in exodontia and continues to revolutionize instrument design by improving and innovating other surgical instruments for optimal performance.
Special Edition FRINGS
More than 10 years of clinical research went into the development of TBS Dental's Special Edition FRINGS®. Specially designed by dentists in the field, these FRINGS® forceps designs have been modified to offer clinical advantages over iterations of traditional extraction forceps found in most dental practices today.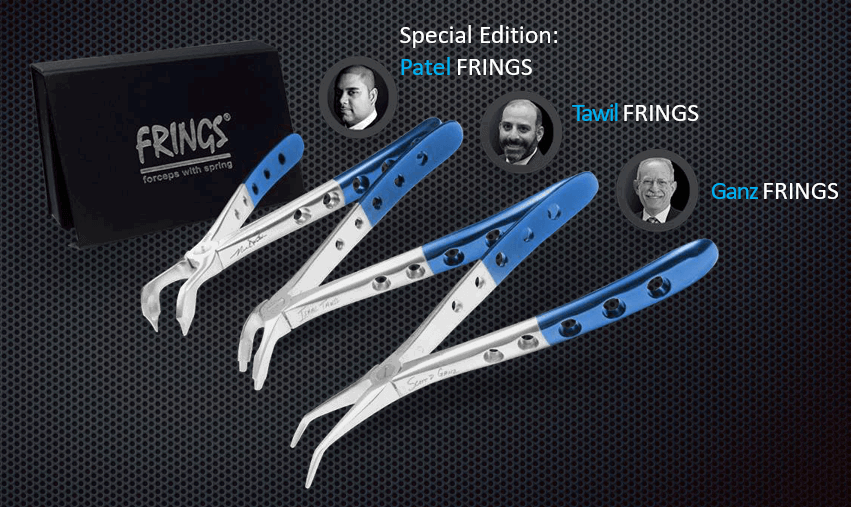 Pictured above are our Special Edition FRINGS® inspired by real dentists:
Dr. Neal Patel, Columbus, OH
Item #33006F
Modified Cowhorns, Lower 3rd Molars, Tapered, Beveled, Serrated Beak
Tawil FRINGS®
Dr. Isaac Tawil, Brooklyn, NY
Item #33005F
Modified 151, Lower Universal, Tapered, Beveled, Serrated Beaks
Dr. Scott Ganz, Fort Lee, NJ
Item #33011F
Micro Universal Roots, Cross Serrated Beaks
Lifetime Warranty
In addition to the patented spring-loaded hinge and auto-retractable handles, TBS Dental boasts 13-different strategically- designed FRINGS that offer varying bi-directional serrations, beveled tips and anatomically shaped beaks for precise apical and coronal grip. Each instrument is laser-inscribed with the designated teeth numbers for which it is designed, making it easy for dental staff to identify. TBS Dental also proudly offers a lifetime warranty on their entire line of FRINGS Forceps. You will love how they feel and work in your hand.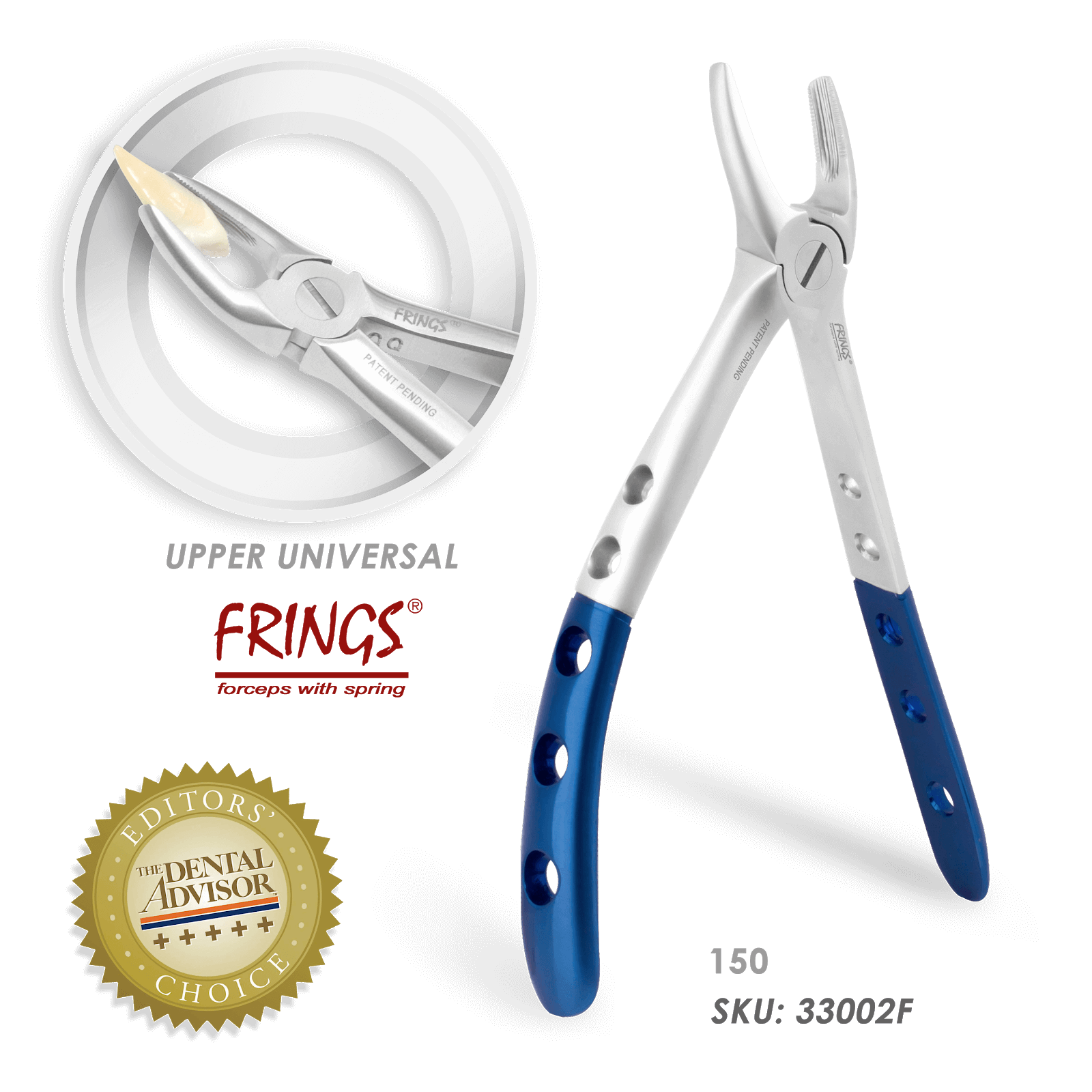 Visit tbsdental.com to see our complete atraumatic extraction instrument lineup and #findyourFRINGS.